Treasure Island
29 September - 4 October 2020
Directed by Dylan Shield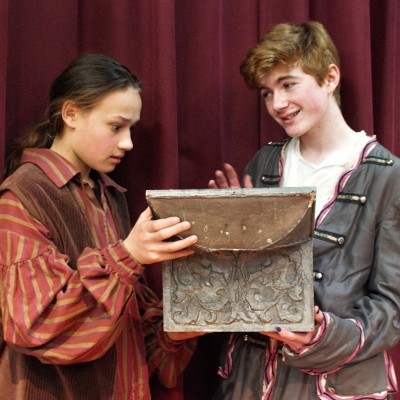 The Dunedin Repertory Society's Children's Theatre is delighted to be able to perform Treasure Island these school holidays. Dylan Shield is directing and has adapted the script from the classic novel. He also has written the original songs for the show. Choreography is by Courtney Drummond.
A large cast of enthusiastic actors from university students through to primary school are keen to take you on an adventure, as Jim Hawkins ( Rowan Metreyeon) and friends set sail to follow Billy Bones' treasure map. There are many dangers and pirates to watch out for and is Long John Silver (Liam Scott) friend or foe?
The set designed and constructed by Damian Weedon includes the pirate ship and it is well suited to a large stage. This production has a changed venue from the Playhouse where an upgrade is taking place and Logan Park High School has kindly offered their auditorium. The larger venue has the advantage of social distancing and plenty of free parking. Shows are Tuesday the 29th of September till Friday 3rd October at 11am and 2pm and Saturday and Sunday the 4th and 5th of October at 2pm only All seats are $8 and bookings can be made as usual on the Playhouse answerphone 03 4776544 or online via our Facebook messenger.
Photo gallery