Children's Theatre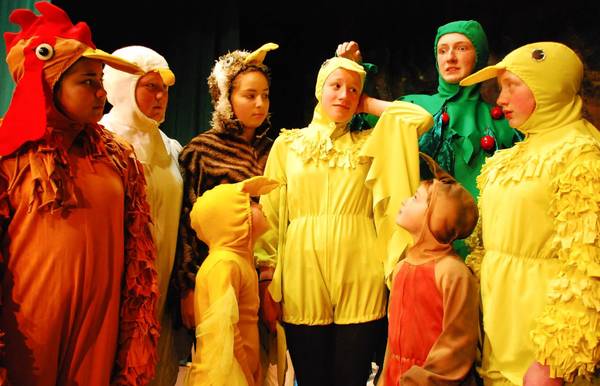 We have staged children's theatre productions in the school holidays for over 40 years. We are proud of our strong following and love seeing families return time after time to enjoy live theatre. In fact, many of our former little patrons are now bringing their own children to see our shows!
Coming to see a children's theatre production
When you bring children to a Playhouse school holiday production, you're giving kids the wonderful experience of live theatre – and supporting Dunedin's budding performers, writers, directors, designers and tech crew at the same time.
We stage a production in the first week of each of the term holidays (April, July and October). The season runs from the first Saturday to the middle Sunday of the holidays, with performances at 11am and 2pm daily – except for the opening weekend and final Sunday, which are 2pm only.
Tickets and booking
All seats are $8, and we have EFTPOS facilities available. The box office opens in the week before the show opens. Bookings can be made by calling 03 477 6544. Please leave a message with your name, phone number, the date and time of the performance you wish to attend, and the number of tickets you wish to book. Your booking is confirmed unless you hear back from us. Please collect your tickets from the box office at least 15 minutes before the performance starts. We love hosting kindergarten, childcare and school holiday programme groups. Please contact us by phone or email to arrange your seats.
Shows run for about an hour and a half, including an interval and the opportunity for children to meet the characters at the end of the performance. We have a great selection of affordable refreshments available at interval in our upstairs coffee bar. Please note many of our productions use strobe lighting and/or dry ice.
Accessibility
The auditorium has a wheelchair accessible entrance and seating space. Unfortunately our foyer and box office (including toilets) do not have wheelchair access.
Getting involved
Playhouse shows offer a wonderful introduction to acting and performing for children and young adults. Cast and crew members learn new skills, make friends, gain confidence and experience performing for a real audience.
We also always need more grown-ups! Teenagers, tertiary students and adults are very welcome onstage or as part of our backstage team.
General information about being involved in our productions
Performing in the school holiday shows requires significant commitment from families. The cast rehearse for 8-10 weeks in addition to a nine-day performance season.
We generally hold a full cast rehearsal on Sunday afternoons. Younger cast members generally also attend one weekday rehearsal (4-6pm), and older cast members and lead roles attend two weekday rehearsals. All rehearsals are held at the Playhouse theatre.
We generally cast from 10 years minimum. We have limited spaces in our productions each year, particularly for children under 13, but try and accommodate as many as we can.
The Dunedin Repertory Society also requires all cast members to become financial members of the society (junior membership costs $10 per calendar year, and adult membership is $20). You can find more information about membership here.
If you or your children wish to get involved in Playhouse shows, please email us at playhousedunedin@gmail.com and let us know your (or your child's) name, gender, age and interest in the theatre.
Photo gallery