The Princess and the Pea
14 - 22 April 2018
Directed by Christine Colbert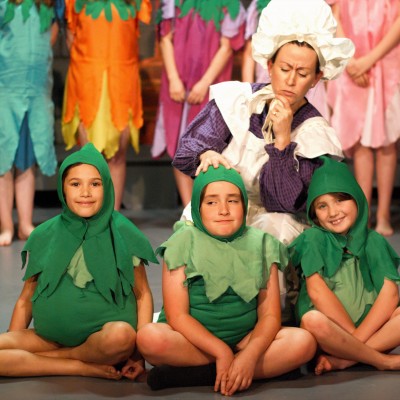 The search is on for the perfect princess at The Playhouse Theatre in the first week of the school holidays.
Prince Personable is looking for the perfect bride. King Kindly and Queen Quirky hold a grand ball, but the prince can't find anyone who is just right. He searches far and wide for over a year but none of the princesses he meets have that certain special something. And then he meets Penelope. But is she a real Princess? Prince Personable thinks so, but Queen Quirky is going to put it to the test and all the peas in the palace garden are eager to assist.
The ambitious Duchess Duplicitous, despite the doubts of her long suffering husband Duke Downtrodden, is determined the Prince should marry their daughter Petulant, and she will go to almost any lengths to achieve her goal.
Adapted from the story of the Princess and The Pea, by Christine Colbert, Sharon Young and Jill Moore, it is directed by Christine Colbert, with musical direction by Dylan Shield and choreography by Courtney Drummond. It features Danny Still's original songs which, along with the legacy of Val La Hood's stunning costumes, definitely have that special certain something.
The cast features all ages from adults Denise Casey and Stacey Gribbon as the Cook and the Gardener right down to the smallest pea who is making her debut at six years old.
An enthusiastic chorus of courtiers, woodland animals and garden peas sing and dance their way through the Repertory Society's Children's Theatre school holiday show. The perfect school holiday entertainment.
The Princess and the Pea opens at the Playhouse theatre on Saturday April the 14th at 2pm. It runs until Sunday April 22nd at 11am and 2pm daily except for Sundays, which are 2pm only. All tickets are $8 and bookings can be made by phoning 477 6544 from Monday 9 April. EFTPOS is available. See our Tickets page for more information about tickets, and our Children's Theatre page for more general information about coming to see our productions.
Photo gallery