The Jungle Book
13 - 21 April 2019
Directed by Courtney Drummond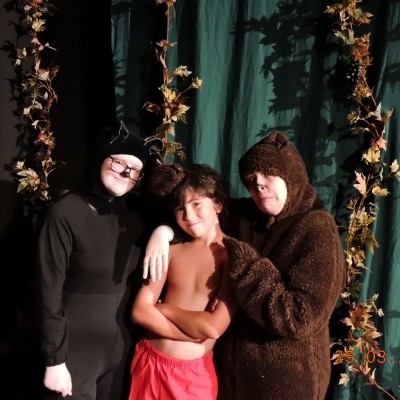 Go on a journey with The Jungle Book at The Playhouse Theatre
Escape to the jungle at the Playhouse these holidays, and find Mowgli, the boy raised by wolves, playing amongst the vines.
Can Shere Khan, the very hungry tiger, get Mowgli out of the jungle for good? With the help of fun loving bear Baloo, and the wise panther Bagheera, Mowgli journeys through the jungle to the village. Along the way, the mischievous hyena Tiki updates the group on Shere Khan's plans. Mowgli and his friends must avoid the monkeys and snakes to make it to the village safely.
Rudyard Kipling's original story has been adapted for the Playhouse stage by Courtney Drummond and Mikayla Cameron, and is directed by Courtney Drummond. Playful original songs written by Dylan Shield, and a beautiful array of costumes by Jill Moore and Christine Colbert make this a perfect school holiday outing. The season runs from Saturday 13th April to Sunday 21st April at 11am and 2pm daily, except the 13th, 14th, 19th and 21st – 2pm only those days. All tickets are $8 and can be booked on 03 477 6544, or our Facebook page. More information about coming to see a Playhouse show available here.
Photo gallery