Rats! The Story of the Pied Piper
9 - 17 July 2022
Directed by James and Jemma Adams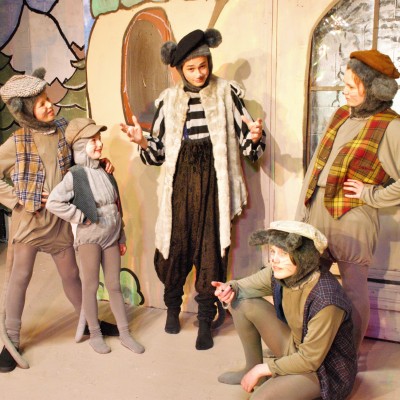 Guten Tag! Welcome to the beautiful, bustling town of Hamelin! It's the most perfect place in every way…except for those cheeky RATS!
Scurry down to the Playhouse these school holidays for a fun, colourful, and musical retelling of the classic tale - the Pied Piper of Hamelin. Cheeky, thieving rats have invaded Hamelin and are wreaking hacov among the poor townsfolk. The Town Council are at their wits' end trying to exterminate the pesky rodents, not to mention save their jobs and reputations!
All seems lost until a mysterious, pipe-toting stranger appears, with a plan that's as odd as his outfit. Could it possibly work? And what will happen to a Mayor that can't keep her promises?
A talented, young, local cast gleefully inhabit Hamelin with hearty townsfolk, wise-cracking rats, and a hapless Town Council, with song, dance and shenanigans along the way.
Book, music and lyrics by Dave and Jean Perry, with recordings orchestrated by Steve Herold. Adapted for the Playhouse Theatre and directed by James and Jemma Adams.
The show runs Saturday 9 - Sunday 17 July. Shows are at 11am and 2pm daily, except for the opening weekend and final Sunday which are 2pm only. All tickets are $8. To book, message our Facebook page or leave us a message at 03 477 6544.
Photo gallery