Pinocchio
8 - 16 July 2017
Directed by Christine Colbert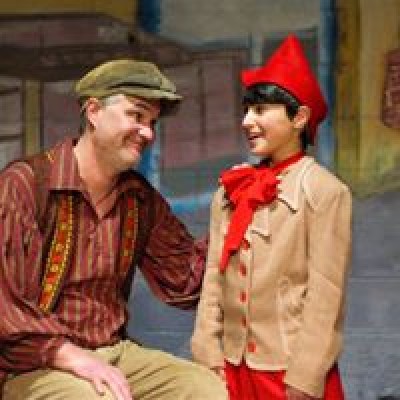 Pinocchio is back at the Playhouse for the first week of the July school holidays.
A perennial favourite, this colourful show provides entertainment for all the family. Geppetto wishes so hard for a son that the Blue Fairy takes a hand in helping him create a puppet that can move without strings. However, Pinocchio has a lot to learn before he can become a real boy and somehow he never quite makes it to school.
However he has many adventures including teaching puppet masters' puppets to dance without strings, falling into the clutches of dastardly Fox and Cat, and being sold to a circus by an evil coachman who rounds up school truants, who turn into silly asses without the benefit of an education. Luckily with the help of the Blue Fairy's friends Cricket, Frog and Bird, Pinocchio escapes these dangers and manages to save Geppetto from a fearsome shark.
The enthusiastic cast sing and dance as puppets, and circus performers and truant children with able assistance from Musical Directors Dylan Shield and Zac Nicholls and choreographers Rebecca Glover and Courtney Drummond.
Photo gallery