Peter Pan
7 - 15 July 2018
Directed by Courtney Drummond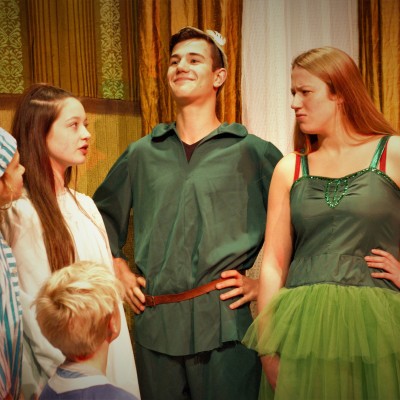 Watch out! There are pirates, Neverland natives and a giant crocodile at the Playhouse in the first week of the school holidays. J.M. Barrie's Peter Pan is live on stage and you can join Peter, Wendy, John, Michael and the lost boys on their rollicking adventures in Neverland.
Not everyone is happy that Peter has found a mother for the lost boys. Tinkerbell and the Mermaids, for a start. And it seems the pirates are not too enthused either.
Captain Hook and First Mate Smee may be fearsome, but they are also funny - and they are no match for Peter Pan.
Peter manages to save the beautiful Tiger Lily from Hook's clutches, but will he be able to save Wendy? Jump aboard the pirate ship and find out!
Adapted from J. M. Barrie's original story by Rebecca Glover and Dylan Shield, with direction and choreography by Courtney Drummond, the enthusiastic cast sing and dance their way through wonderful original songs by Musical Director Dylan Shield. They are having fun and so will you.
Peter Pan opens on Saturday the 7th of July and runs until Sunday the 15th at the Playhouse Theatre in Albany Street. Performances are at 11a.m and 2pm daily, except for the opening weekend and final Sunday which are 2pm only. All tickets are $8 and you can book by phoning 4776544. Eftpos is available.
See more information about coming to see our children's theatre productions here.
Photo gallery