Not Quite the Three Billy Goats Gruff
6 - 14 July 2019
Directed by Christine Colbert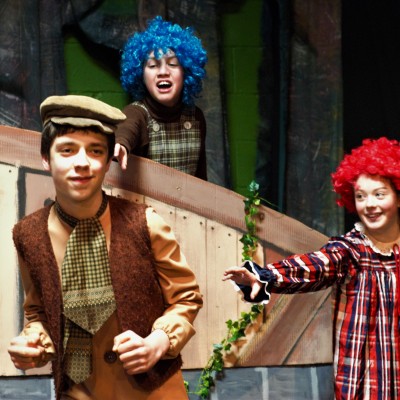 The Three Billy Goats Gruff are at the Playhouse in the first week of the school holidays. These guys have got attitude - and they've also got Grandma Troll's washing - and her spinach!
Lenny and Lizzie Troll are in Trollsville for the holidays and they are looking for adventures. And it looks as if they will find them.
This story is full of familiar characters but with lots of surprises. You'll meet Postie Pat, Chicken Licken, Henny Penny with their feathery friends, and the Gingerbread Man. And you had better watch out for the wily Foxy Loxy.
And then there is Finn the GIant, who is searching for a cure for his shortness. Will the trolls be able to help him so he can be happy? Come on down to Trollsville and find out for yourself. You'll be glad you did. A large cast of Trolls and assorted animals are keen to invite you to join in a good old country Hoedown.
Not Quite the Three Billy Goats Gruff is directed by Christine Colbert, with choreography by Billie Taylor. It features original songs by Danny Still. The show runs from Saturday July 6th to Sunday July 14th. Shows are at 2pm on the opening weekend and final Sunday, and 11am and 2pm daily on weekdays and Saturday 13th. All seats are $8. Phone 477 6544 or message our Facebook page to book.
Photo gallery