Not Quite the Big Bad Wolf (2022)
16 - 24 April 2022
Directed by Helene Dupres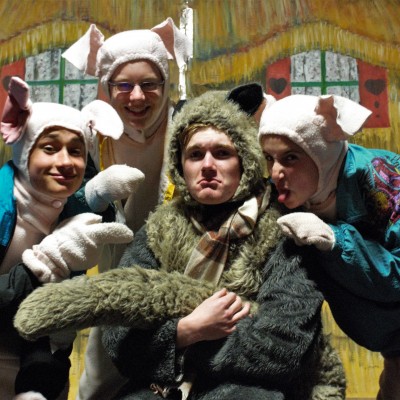 He's Not Quite the Big Bad Wolf and he is starring at the Playhouse Theatre in the first
week of the school holidays. Our wolf (Ruairi O'Malley King) is more big and sad, than
big and bad and if he wants to catch the three little pigs for his birthday dinner, he had
better get meaner and a little smarter.

It seems that nobody has remembered the wolf's birthday and he doesn't get much
sympathy from a rather spoilt Red Riding Hood and her feisty Grandma, or a very busy
Mother Bear. Prince Charming would have been happy to give the wolf a fun birthday
but he is too busy searching for the girl who fits the glass slipper and Cinderella's sisters
are too busy trying to squeeze their feet into it. It seems everyone is too busy for the wolf
today. Hansel and Gretel are more interested in eating bits of the Gingerbread house than
helping the wolf blow it down, and nobody knows what the witch and her cat are plotting.
As for those super-cool rapping pigs – they are always tantalisingly close but will the
wolf ever get his birthday dinner of roast pork? He is going to need plenty of help from
the audience if he is ever going to find those tricky little pigs.

An enthusiastic cast of all ages sing and dance their way through Not Quite the Big Bad
Wolf, which is directed by Helene Dupres ably assisted by Musical Director, Dylan
Shield and Choreographer, Lula Rennie Weston.

The show runs from Saturday April 16 th until Sunday April 24th, with shows at 11am and
2pm daily except for the opening weekend and final Sunday which are 2pm only. Tickets
are all $8. Bookings on our Facebook page or phone 03 4776544.
Photo gallery