Never the Sinner
2 - 10 June 2017
Written by John Logan. Directed by Lewis Ablett-Kerr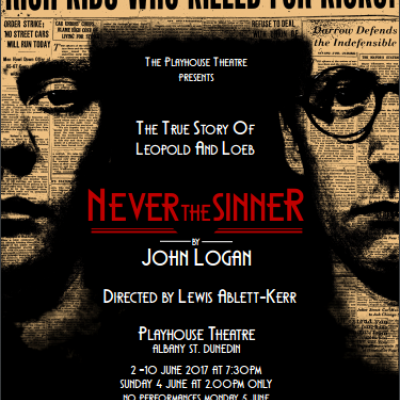 Based on the true story of Nathan Leopold and Richard Loeb and "the crime of the century", Never the Sinner is set in 1924 Chicago where two rich and highly intelligent boys plan to commit the perfect crime and proceed to kill 14-year-old Bobby Franks for kicks. Society condemns the boys and demands their hanging, but humanitarian defence lawyer, Clarence Darrow, pleads with us, as the judge, that we should condemn the sin, but Never the Sinner. Are we able to do so?
A moving and challenging work exploring social attitudes and mores, this play is, as described by the playwright, "also a love story" set to themes of crime and punishment, the press, the times, humanism, Nietzsche's philosophy and the end of the jazz age.
Never the Sinner premiered in 1985 at Stormfield Theatre in Chicago with Terry McCabe as Artistic Director. It opened in London at the Playhouse Theatre on 29 March 1990, directed by Geoff Bullen. It's Off-Broadway season commenced on 24 January 1998 at the John Houseman Theatre, New York.
Click here to read an Otago Daily Times article about our production. The Otago Daily Times' review of the production is also available here.
Photo gallery